The Blockboy is KoGaMa's original
default avatar
(not counting the original robot avatar from closed Alpha), and is currently one of six default avatars available to those creating a new account.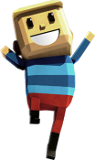 It is notable that the original Blockboy avatar had various mistakes, including sand under his chin, a hole in the bottom of his trousers, and a block on the side of his head.  The current Blockboy avatar only appears to have one obvious mistake, which is a miscollered spot on his trousers.  It is also notable that the Blockboy is usually seen with a large smile, while the actual avatar doesn't have a mouth at all.  A Blockboy avatar can be purchased for
275 Gold cubes
, even if the user didn't select the character as their default avatar.
Ad blocker interference detected!
Wikia is a free-to-use site that makes money from advertising. We have a modified experience for viewers using ad blockers

Wikia is not accessible if you've made further modifications. Remove the custom ad blocker rule(s) and the page will load as expected.